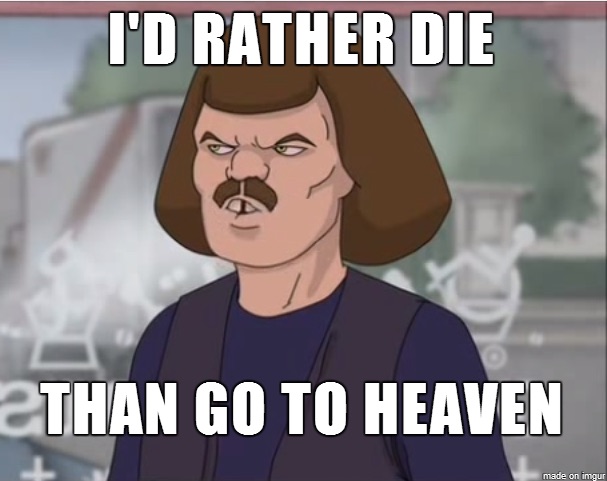 Ask a Christian to describe heaven and they will say you are up on the clouds with God. You are there with all your (Christian) relatives, and Jesus is there, and everything is perfect, forever. After a minute or two they will run out of things to say. But ask them about hell and they can go on and on about it. There are demons, and people getting tortured, and souls drowning lakes of fire. Every hellish torment that can be thought of has been thought of and elaborated upon, ad nauseam. But we don't ever hear too much about what goes on in heaven.
What the hell is heaven for anyway? A reward for being a good person? Isn't that its own reward? If I don't believe in heaven but I'm still a good person doesn't that make me a better person than someone who is a good person just because they want a reward? Or, if you are only a good person because you don't want to get punished for being a bad person aren't you already a bad person?
Not that it matters because heaven is chock full of bad people. Any rapist, child abuser, murderer, or cereal killer who is given a Bible in prison and then decides to give his soul to Jesus is forgiven and allowed into heaven. David "the son of Sam" Berkowitz who murdered 6 people with a .44 magnum, and Jeffrey Dahmer who raped, murdered, dismembered, and ate 17 young men are just two examples of the people you can look forward to hanging out with for eternity in heaven.
I don't understand how Jesus can forgive all sins (except the unforgivable sin) and yet his father is incapable of forgiving Adam and Eve? If God could just forgive them for eating that apple then there would be no need for Jesus to die for anyone's sins. And if God could just forgive the people who don't believe in him there would be no need for hell. But I digress.
So what is heaven?
Heaven is a shiny object the church holds in front of the poor so they stay in their place. Don't worry about wealth. Give us your money. Trust us, your reward is in heaven. (It looks like the church has had their reward already. And then some.)
They use the promise of riches in heaven to keep the poor from striving for a better life on earth. In fact they make it seem like it's actually better to be poor. One of Jesus' most famous lines says, Matthew 19:23-24 Then said Jesus unto his disciples. "Verily I say unto you, that a rich man shall hardly enter the kingdom of heaven. And again I say unto you, It is easier for a camel to get through the eye of a needle, than for a rich man to get into heaven." Meanwhile the Pope sits in his castle on his golden throne, thus proving that Jesus' CEO on earth is truly the king of the hypocrites.
Priests and preachers make promises of heaven, but they don't specifically say what heaven is. They say there are "treasures" and "rewards" waiting for you in the afterlife, and then they just let you fill in the blanks. (This is a classic NLP technique. Politicians do it all the time when they use vague words like "change", and "great".) They use emotionally charged words and then they let you give the words meaning, which makes those words all the more meaningful to you.
But what does the Bible actually tell us about heaven?
Most of the mentions of heaven in the Bible are in reference to "heaven and earth". It's either that, or they speak of heaven as where the father is, (or should I say where the father art?) And of course they refer to it as a kingdom, "the Kingdom of Heaven". Heaven is apparently some sort of cosmic monarchy, or North Korea in the sky.
Occasionally the Bible does actually say something about heaven itself. In Matthew 13:1 it says, "Heaven is like a man who sows good seed in his field." As a gardener, I could get into a heaven like that. But I don't think I could enjoy it if I knew that there was another place where demons were eternally torturing people who did not believe in my garden.
Here are some other metaphorical examples of what Jesus says heaven is like. Heaven is a nice loaf of bread. Heaven is like a merchant looking for fine pearls. Heaven is like a landowner going out to hire workers for his vineyard. Heaven is like a king throwing a wedding banquet for his son.
Am I the only one who notices that there is nothing heavenly about any of that? Those are all things that people could do on earth. Those are all things rich people do.
So let me get this straight. A rich man can't get into heaven, so you should give all your money away (preferably to the church) and live a life of poverty, then when you die in squalor you get to go to heaven and hang out with a king, and he makes you rich? How does that make any sense?
And if heaven is so great why do Christians cry when their friends or family members die. They weep and wail and moan, but shouldn't they be celebrating? Even if your teenage son somehow dies in his sleep doesn't that just mean that God has taken your little angel up to heaven early? Doesn't that just mean that your young son got an express ticket to the best place in the universe? Didn't his early death spare him a life of having to stay in God's good graces? Doesn't his premature death mean less earthly temptations and chances that he might have gone to hell? Isn't he better off dead at a young age? Doesn't he just get to spend even more time in heaven?
And if heaven is so great why wouldn't you just kill yourself to get there as soon as possible? Oh that's right, because suicide is a sin that keeps you out of the heaven you are so desperately waiting to get into. Even euthanasia is a sin. You have to suffer in poverty and pain as long as possible, only then will God give you riches and everlasting life. Because if all the poor people the church has convinced are going to be rich in heaven killed themselves to go to heaven to collect their reward, there would be no one left on earth to give money to the men who run the church. And those guys aren't about to get real jobs.
They are like sleazy timeshare salesmen selling you the deed to land that they don't even own. (Following Yahweh's example of giving the Promised Land to the Jews even though it belonged to someone else.) Heaven is just another broken promised land, and the church is like a sub-prime mortgage lender to the afterlife.
Really, what proof is there that heaven exists at all? None. So why forsake your happiness in this life for happiness in one that doesn't exist?
But for the sake of argument let's pretend that the afterlife really does exist (which is basically what people who believe in heaven do anyway.) Lets say you've passed the big test and you have made it to heaven. Now what? What do people do in heaven? Ok they sit at the right hand of God, and then what? They just stare at him? Seriously. What goes on in heaven? Do you smugly watch people burning in hell for fun? Do you still have to read the Bible?
Are there levels of heaven? When you get to heaven do you get a chance to hang out with God himself? Do only saints and popes get to hang with the big man on a regular basis, or does any average Joe get to hang with the cool kids on cloud 9? Is Mary hounded by paparazzi up there? Does everyone crowd around taking selfies with Jesus? Or are the A-listers in the VIP room behind velvet ropes?
What are you supposed to do for all eternity? There is no death, or reincarnation, or progress to be made. No growth to be had. You are just there at the end of the line. Then what? Isn't that rather empty? Doesn't anything for eternity become unbearable? Isn't that the point of death in the first place? Doesn't death give our lives meaning by imbuing them with preciousness? Doesn't the inevitable end inspire us to appreciate what is here and now because it won't be here forever? It sure does for me.
And if heaven truly awaits us in the afterlife then where are we now? What is this world our souls have been born into? Is reality really just a test? Because in the biblical story of creation it doesn't say, "God created heaven and earth just to fuck with people". (Although in retrospect that is pretty much all that he has done.) Is the entire universe just a reality TV show for God where people get kicked off the island into a pit of eternal fire?
If heaven is like they say it is, if heaven is just sitting around listening to Christian music and kissing Gods ass until the end of time, it just sounds like church forever. That sounds like hell to me.
Sometimes I think the world has gone to hell already, and that it is the people who believe in heaven who have made it that way.
But for the most part I spend my life living in my version of heaven, right here, right now. I love my life. I love this planet. I cherish my friends and family. I love to learn and grow. I am grateful for nature, and I am constantly in awe of the universe. Heaven is my body. Heaven is my garden. Heaven is my cat (mostly). Heaven is my life. Truly heaven is on earth.
And hell is too. That is the whole point. We make this place what it is with our perception of it. Heaven is a belief, and your beliefs are in your head.
Honestly I don't really care if you believe in heaven. If you believe there is an afterlife that's fine with me. If it comforts you or makes you happy I hope it brings you peace and that you enjoy it.
What I think is utterly contemptible bullshit is when your being in heaven is contingent upon my being eternally tortured for not believing in your God.
And I would just like to end by saying, for the record… I would rather spend eternity burning in hell than waste a lifetime worshiping the God who created it.